At some point, COVID will be no longer a threat. Till then, stay at home and do not come anywhere near Hawaii because the risk is way too high for locals and anyone at serious risk. Therefore, use this information below for better times.
---
Since we've shared the news with friends about our move to Hawaii, there has been a natural and lovely reaching out from friends "we're coming to visit you!" type of message.
Friendship is the salt of a happy life and as a professional bLifer we were humbled by how much desire friends and family have shown in wanting to be experiencing Moloka'i.
Therefore, in this post, I want to share what we know about visiting this beautiful island and set expectations because Moloka'i, is not the typical mall on the water type of tourist destination known in the Hawaii state.
Why so remote?
We have already documented why Molokai is the right island for our retirement and our little bLife Project. We also took a stab at the misconception that this island is not as remote as the Internet vernacular tells to the world through the magic of a Google search.
When it comes to being "remote" I don't think of Amazon deliveries via Prime, something that we experience weekly those days, due to the fact that we have to buy everything needed for the new gig.
And on that line, I also don't think of getting our newest Apple computer on the porch by the UPS dude that kindly mentioned that if I leave the gate open, he can deliver the boxes on the porch. This porch delivery has also led to chatting over the gossip of what's happening on the island and these chats have led to a valued friendship.
Or to have live streaming with my sister-in-law in Italy from my countertop while I am making bread. Yep, I can do that because, in this remote place, we have fiber optics!
Moloka'i isn't remote. It's an island with perks and as with all islands, there is a different way of living, experiencing life, and getting used to doing things at a slower pace, just as in a small-town atmosphere. It's not for everyone.
Let me take you through the essence of our island with the eye of who has traveled in many parts of the world and that as a newbie to the island still has a fresh look at what's available and what it will never be a thing in Moloka'i.
The Beach
Our island offers six beaches, all swimmable. Our favorite is Papohaku beach, it's 30 minutes away from home and it is the place where we spent our Christmas eve last year.
There you'll find campsites, indoor and outdoor showers, as well as picnic and restroom facilities. What you won't find is a lot of foot traffic. There's ample space to enjoy a beautiful view of Oahu. It is also known as the three miles beach because it's about three miles of white sand pleasure.
During the winter months, from October through March, it is best to avoid any dangerous shore break. Oh... I should have also mentioned that it is the largest white sand beach in the whole of Hawaii. Yeah, it's flipping awesome.
Different Tourism Style
Any of the other islands in the Hawaii archipelago are what we call "mall islands" or "floating shopping experiences". We don't like that. Hawaii offers much more than that but unfortunately, over the decades it has become a Las Vegas over water. Moloka'i has kept strong to keep the island from replicating how the other island has been transformed into. The culture is rich and it has been maintained here but still offers some of the perks of the mainland in a Hawaiian style.
They want just enough tourism to show off the beauty that the island has to offer. People are friendly regardless of those signs but they have zero problems in expressing their attachment to the land and to the fact that if you come here, for business, pleasure, or else, abide by the rules or you will experience an un-mahalo welcome.
Before I forget, at first pronouncing Hawaiian names can be intimidating and if that is how you feel, have a look at this 15 minutes training for getting up to speed. It's less bad than it seems, or literally, as it sounds. It just takes a bit of practice and work.
When moving anywhere in the world, don't change things, adapt and adapt naturally, otherwise, you are going to stress over that self-resistance to the surrounding pressure of being new.
Size Matter
There are eight major islands in Hawaii. As of 2020 Oahu is the largest, with a population of 953,207. Next largest is Hawaii itself, holding 186,738 people, followed closely by Maui (144,444). The only other island with a sizeable population is Kauai (66,921). The remaining islands are Molokai (7,345), Lanai (3,135), Niihau (170) and Kahoolawe (unpopulated). [source]
Therefore, everything is available on the scale of the population those islands host. There's perpetual competition for resources, just like you would if your options of feeding your family were limited.
Nightlife
I want to set your expectations when visiting Molokai because likely you will have comments such as "there's no nightlife here". You are correct. This is not the island for wild nights in a pub or dancing on the floor with flocks of chicks around you getting wasted. If that's your jam, then another, more populated island is more your speed. There's one nice restaurant & bar: Paddlers which we visited in December 2020 and it was exactly as described by this fellow traveler in 2015.
Things that you don't hear much about the nightlife in Molokai are the spectacular sky and atmosphere you experience after 9 PM. Stars paint the sky like on a canvas made by Raffaello. Stargazing in Molokai is to die for.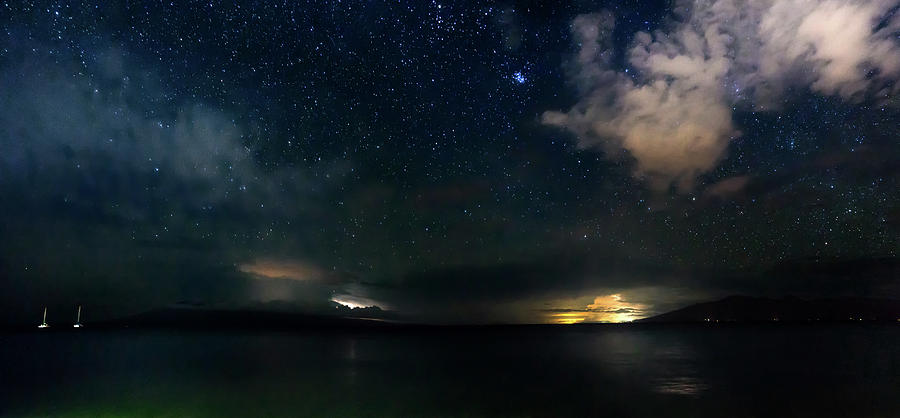 And that sky comes out of nowhere and suddenly, it is announced by the majestic sunsets that we post on our Instagram or Twitter account, taken directly from the laziness of our deck. The lack of a filter is perfect for Moloka'i life, best result with minimum effort, just like bLife should be.
So, there's no nightlife in the general understanding of consuming your nights in a public place but by all accounts, fireplace, good food, and you are in for a treat of absolute silence in the company of nature's majestic touch. If you then have friends around you, be aware that you may just think you are dead and in paradise.
Transportation
There are Uber and Lyft on Moloka'i. Yep, I know, it's remote but there's that too. However, if you are accustomed to the sharp precision and high distribution of the mainland Uber life, hey no über pun intended, then you are in for a surprise. On Moloka'i, everything is taken exactly as it should be. Stress-free and with the due course of time.
There's no public transportation but also there are no traffic lights and very-very few stop signs. There's a volunteering system of people that takes you to places, where you meet new people and pay forward when you get the chance.
There's one EV charging station and like with everything in Moloka'i, there's ONE of everything it just works at a different pace, yes, even electrons.
There is a taxi service (808) 336-0967
There are three car rental services and we recommend that you book well in advance because as you can imagine on an island that stretches as far as 39 miles, toenails included, the car inventory isn't either rich or huge. Again, it's available but you have to realize that everything is proportional to the population size.
When the pandemic hit, making the rental car pricing and availability skyrocket, some resorted to a trick and rented out U-Haul vehicles. You can still do that here IF you have a Hawaiian driver's license.  
Hiking
We hiked everywhere that was possible on public land, some locations are closed during the COVID time, we can't wait to have the green light to explore the hikes that we couldn't reach when we were there last time.
Halawa Valley is believed to be the oldest Hawaiian settlement. The people here live off the land and respect their natural surroundings. After a tsunami in 1946 destroyed the small village in the hills, nature has since reclaimed the land, draping the mountains in thick rainforests. Waterfalls cascade down lush mountainsides to hidden valleys, tropical plants adorn the paths, and driftwood piles are scattered throughout the beach.
A handful of families call this valley home now, and one of them is the Solatorio family. The father and son duo, Philip and Greg Solatorio, run guided cultural hikes in the valley, sharing their way of life and educating visitors about Hawaiian culture.
Tours last four to five hours and will take you to the magical Mo'oula Falls, where you can swim in the refreshing pool underneath. The tour ends with the making of origami with palm leaves, a lovely souvenir of your time on Molokai.
Kalaupapa is picture-perfect. In 1866 this part of the island was dedicated to quarantining patients with Hansen's disease (leprosy). At this world-famous peninsula that is now Kalaupapa National Historical Park, Belgian missionary Father Damien served patients with compassion and brought awareness about the disease to the rest of the world. Unfortunately, he contracted the disease and died of pneumonia in 1889. Leprosy is no longer contagious, and though many of the Kalaupapa residents have left, only 10 residents remain in a small settlement.
Visitors can get a sense of the isolation the former residents experienced and learn about the history of the site, located on the northern tip of Molokai. Historic churches, cemeteries, and homes can still be seen, and only a limited number of people are allowed daily out of respect for the residents. Take a plane ride into the settlement on a Kalaupapa Discovery Air and Ground Day Tour. The 2.9-mile Pali trail, which drops 1,700 vertical feet with 26 switchbacks, is currently closed due to a landslide.
Enjoy panoramic views of the Pacific and the soaring sea cliffs from the top of Palaau State Park, and the neighboring Molokai Museum has exhibits on the saints that took up the worthy cause at Kalaupapa. The state park also offers winding trails through a forest of eucalyptus and ironwood trees.
Walking along the narrow three-mile boardwalk at Kamakou is like taking a time machine to primordial earth, where a moss-covered rainforest provides host to a variety of native plants and wildlife. The 2,800-acre unspoiled preserve is located on the slopes of Kamakou, Molokai's highest mountain.
Birds here play a symphony for the ear, even for Mario that despite his many talents, good hearing is not one of them. He challenged me on the subject once and I dragged him to Costco where they have a hearing testing service.
Take in the sweet songs of native song birds, such as the endangered oloma'o (Molokai thrush) and kakawahie (Molokai creeper), and spot colorfully banded tree snails on hikes.
Make sure to wear long pants and covered shoes with traction. A 4WD vehicle is required to get to the preserve we tried with our torpedo Fiat 500, yep, not very smart of us. End your journey in this natural treasure at the overlook at Pelekunu Valley, with deep chasms and majestic sea cliffs plunging into the sea.
You don't need social media browsing here, you can experience it in person and it is majestic. Also, there's no Instagram in many of these majestic locations because if you get any signal in spots like this on Moloka'i, you might have just won the lottery without playing it.
Take a ~60-minute West Maui and Molokai 60-minute Helicopter Tour for a bird's eye view of the awe-inspiring coastline, or learn to fly on Maui's Best Private Flying Lesson to Molokai, with a trained pilot, of course.
Kawela Plantation has some very unexplored hikes, it's a private part of the mountains of Molokai and accessible only to the owners of homes on the plantation.
When we explored it for the first time, we ran into lovely people that were different from the mainland or "the Seattle Freeze" we were accustomed to, where no eye contact was a sport. But we were met with organically expressing interest in getting to know one another.
Mario has a hiking stick, works like a magic wand against what can't be done. #truestory
That hike offers some majestic picture shots, like this one I took around 5:30 PM on Wednesday.
On the same day, we spotted a herd of deers that very casually were enjoying the island life. Hunting and fishing here don't require a license on the vast majority of the island. Kawela is private so the are additional regulations that apply. That would be a concern only if you own property there though.
Tours
If you want to take a hike with mules or fly over the island call that number and you will get all you need.
Farms
If you can't make it to our backyard, the island offers a Plumeria farm. Stroll the 10-acre farm, located a few miles from Kaunakakai (downtown), and pick your own flowers to make a lei afterward.
Take a guided workshop to sew your own lei, or buy one to take with you. The address of the farm is 1342 Mauna Loa Hwy, Kaunakakai.
Owners of the Macadamia Nut Farm, Tuddie and Kammy Purdy, are the owners of the farm and they have been doing for many decades, all-natural, organic macadamia nut farm.
Learn how macadamia nuts are grown, harvested, and processed on a free guided tour (available Monday to Friday from 9:30 am to 2 pm, Saturdays from 10 am to 2 pm). Tour includes demonstrations and free samples of the unsalted raw or naturally roasted macadamia nuts. You can also purchase macadamia blossom, honey. You find the farm at 4 Lihi Pali Ave, Ho'olehua.
Taste real food
Every Saturday morning, from 7 am to 1 pm HST, in front of the two banks on Ala Malama Street, Kaunakakai comes alive a street market with ~40 vendors selling fresh produce; baked goods; and Hawaiian-made jewelry, paintings, and crafts. There are a handful of shops nearby, where you can pop in to do more shopping.
If before leaving you want to bring a gift to family and friends hit Something for Everybody store featuring clothing, decor, and island-made souvenirs. Here, you could get a hat, dress, blouse, or T-shirt painted with a Hawaiian design of your choice. There's only one so don't start with the limitations and ride on the fact that less than 8K population rocks a gift store in the center of downtown. Perspective changes everything in a bLife. Oh... be aware that they don't have gift wrapping paper or gift bags so don't ask, we tried 🤣
A half-hour drive from Kaunakakai is the Big Wind Kite Factory in Maunaloa, where you can purchase colorful handmade kites along with imported goods and gift items.
People
You may search about the island and you come to, in my opinion, the wrong conclusions about locals not being friendly, the place being remote, like as Africa would look a polar bear. Signs like "tourists not welcome" and examples of that nature.
In our experience, this is far from the truth. People are friendly and they live at a pace that works for the island's mood and lifestyle. They have a tendency to feel threatened by the "outside" because there's competition for resources and there's a history that can't be either denied or just sugar-coated.
If they didn't want tourism at the very core, you wouldn't have a gift shop, quite sizeable and well furnished, at the center of the town. They wouldn't have condominiums for rentals and so on.
They simply keep their guard up because past experiences of abusive large corporations, the whole history of how Hawaii came to be part of the US of America have built up and created some understandable tensions that probably will never go away.
You can't be one of them. But if you are respectful, as a tourist or adopted local, they are extremely friendly and they make you reevaluate the way you have been approaching life on the mainland. It is the act of humanity that most of us have missed being on the mainland. The aim for true connection with a passerby becomes the norm here.
Don't be an asshole, don't rush people at the cashier, don't do anything that runs by the clock concept and you will be fine. For example, expect the cashier and person in front of you to carry on a conversation post transactions. The motto is "keep Molokai - Molokai" and you will be fine.
If you don't, well you will understand very quickly what it means to be in a small place where everybody knows everybody 🤣
I grew up on Vashon Island, Mario in a small village in Italy with less than 1k people. Trust that if you want to enjoy your vacation all you have to do is to be a good human.
Where to stay
We will be posting something specially dedicated to the staying aspect as we know is a top of mind for many, particularly with children. For now, is here a quick brief:
There are no resorts or luxury hotels in Molokai. The island's only hotel, Hotel Molokai, located in Kaunakakai, offers comfortable beachside bungalows, a swimming pool, dead slow Wi-Fi, and a restaurant with alfresco dining set right on Kamiloloa beach. COVID will go away at some point so at this time things are slightly different.
Vacation rentals of condos are available on the west end of the island at Ke Nani Kai, as well as Castle Molokai Shores in central Molokai. In December 2020 Maui passed a city law that prohibits rental outside of dedicated buildings (e.g. condos) for a period that is less than six months.
From our bed to get to this spot was about 60 seconds of walking going at maximum post-sleep speed. It's a paradise.
In December the temperature was almost freezing-awesome. That is by my own standards. I tend to perform like an elephant in a gift shop when it's not warm and here in Molokai, at the daily rocking of 85F, I felt like an iguana waiting for a mojito on the lounge chair while snobishly yawning at the server.
Mario is way less vocal than me on low temperatures, however, as someone that was raised on the Amalfi Coast, he was having a moment every time he was staring at the sea. If had been 30F he would have still stayed in admiration of the place regardless of the temperature. Me, at anything below 72+ I put a sweater on...
Here is a playlist on Youtube of everything we watched to learn some from people that have been visiting. Along with some historical information.
In the meanwhile, have a bLife moment. I am going to pack up the car, it's beach time!